An extraordinary example of the Mediterranean lifestyle, the Amalfi Coast remains one of Italy's most outstanding yachting destinations. Stretching 50 kilometres along the southern edge of Italy, this stunning coastline is home to magnificent cliffs that plunge into the glistening waters below. Offering breathtaking gorgeous landscapes, the coast is filled with beautiful, ancient towns and mountains covered with verdant forests, rich vineyards and lemon groves. Enticing all senses and begging to be explored, one cannot simply cruise by the Amalfi Coast without having a taste or two. Capturing the Italian essence of 'La Dolce Vita,' we share three reasons to explore the Amalfi Coast via charter yacht this summer.
Beaches
A seemingly obvious point, the beaches along the Amalfi Coast have long been praised for their beauty. With each beach along this rocky coastline seemingly more spectacular than the next, visitors will be spoilt for choice. Depending on preference, the Amalfi Coast offers several smaller beaches, secluded coves, and a few larger beaches. For those looking to people watch, head to Spiaggia Grande by Positano which attracts thousands of visitors a year.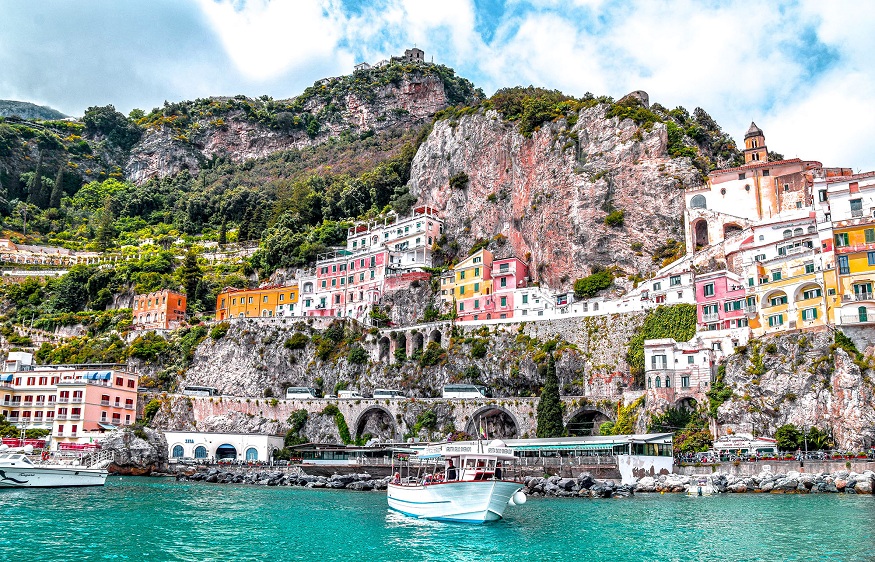 Spiaggia di Maiori is larger and one of the few sandy beaches in the area for those in search of more space. The underwater world by Amalfi Coast is also well worth exploring, with several stunning grottoes, such as the Blue Grotto, Green Grotto and White Grotto located on the coast.
Towns
The Amalfi Coast is home to an abundance of cities and towns well worth discovering during your yacht charter. One could easily spend a week or more exploring the various picturesque towns of Sorrento, Capri, Positano, Ravello and Minori. Each one of these towns features its own distinct charm and character making them excellent stopping points. Positano remains the most well-known of the towns for good reason. The jumble of pastel-coloured houses located down the mountain forming a pyramid shape is truly a sight to behold. Providing several shopping, cultural and dining options, it is easy to see why all favour it. Capri is famous for its upscale shopping options, from designer fashion to fine leather and limoncello, while Ravello's villas and glorious hotels provide endless options for daytime exploration.
History
It should come as no surprise that the Amalfi Coast offers a rich, fascinating and diverse history. One cannot visit this part of the country and not immerse themselves in its past. The famous ruins of the ancient city Pompeii near Naples provide a glimpse into the life people led in 79 AD, when the volcano Mount Vesuvius erupted and destroyed the city. The coast is also home to a number of magnificent churches. The town of Amalfi, once the capital of the maritime republic the Duchy of Amalfi, is home to a stunning medieval Roman Catholic cathedral, the Duomo di Sant'Andrea which dates back to the 9th century which is has been beautifully preserved, while the Churches of San Luca and San Gennaro and Saint John Baptist in Praiano are a must-see.
No matter where you decide to go during your Amalfi Coast yacht charter, you are sure to have the experience of a lifetime.